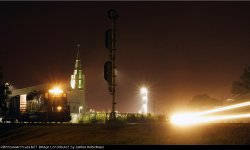 Welcome to the RRPictureArchives.NET contributor site of James Robichaux.

Hi. I will, for now, put on this site specific images about which I have specific questions, but, eventually, I may put more images here.




I have railroad pictures from most of the states in the United States, most of the Canadian provinces that border the USA, two Mexican states, France, and the United Kingdom. Over time, I will slowly add more of them here.




Thank you.






You may browse my collection of pictures via the menu located on the left hand side of the page. I hope you enjoy the collection and thanks for stopping by!
Note: This site is best viewed in Internet Explorer 6.0 or above.
Select one of the links from the menu on the left to begin browsing the collection.